Activities for Rainy Days in Doolin
Probably the opening line of every conversation with an Irish person will involve a comment on the weather. Because Ireland's weather has done more than sculpt our landscape, it's shaped our very culture. It doesn't matter what the weather is doing when you visit Doolin- there is always plenty to see and do! Here are our perfect rainy day activities in Doolin.
Doolin Cave
A must visit in Doolin whatever the weather! The award-winning Doolin Cave and Visitor Centre is  located 4 kilometres from the centre of Doolin village. Discover one of the longest Stalactites in the world. Open daily year-round 10 am – 6 pm (last tour @ 5 pm)
Doolin Music House
Christy Barry hosts music sessions in his home – Doolin Music House on Monday's, Tuesday's and Friday's from 7-8:30pm. This is a magical experience visiting a local home, enjoying local company and listening to a good traditional music session around the fire.
Book a Chauffeur
Stay out of the weather and let Jonathan (Private Chauffeur Drive) or Seán (Burren Tours) drive you around the fabulous sites of the region. Visit the hidden gems, and get an inside track on local and national attractions. Its a great way to get a genuine understanding of Ireland. They can provide you with your own customised Day Tour of the area where you can choose what you would like to see and do and have the luxury of your own driver and guide to maximise your experience and enjoyment of the area.
JJ Corry Irish Whiskey
JJ Corry Irish Whiskey offer exclusive visits to the J.J Corry Irish Whiskey Farm, where you will be able to visit maturing casks and experience the age-old ways of making whiskey. Under the guidance of the McGuane family, guests can go behind the scenes to gain an insight into life as a modern Whiskey Bonder and Blender and experience the resurrection of the historic craft, before tasting award-winning Whiskeys from the comfort of their 17th century Tasting barn. Alternatively, you can also taste JJ Corry's whiskeys at one of our members in Doolin such as McDermott's Pub, Anthony's at Doolin Inn, Russell's Bar at Fiddle+Bow & other places.
Doolin Yoga
Make a trip to Doolin Yoga Studio who run a variety of classes, day retreats, and yoga sessions. Tricia offers lots of different ways to practice yoga and her classes can be found all around Doolin. Find her schedule on her website.
Burren Smokehouse
Only a short drive from Doolin is the Burren Smokehouse visitor centre.  Marvel at the nostalgic atmosphere in the Tasting Room and smell the oak smoke as soon as you come through the door. Feel the rumble of the production facilities under your feet as you explore the retired kiln and smokebox that is on display.
Listen to an Irish Traditional Music Session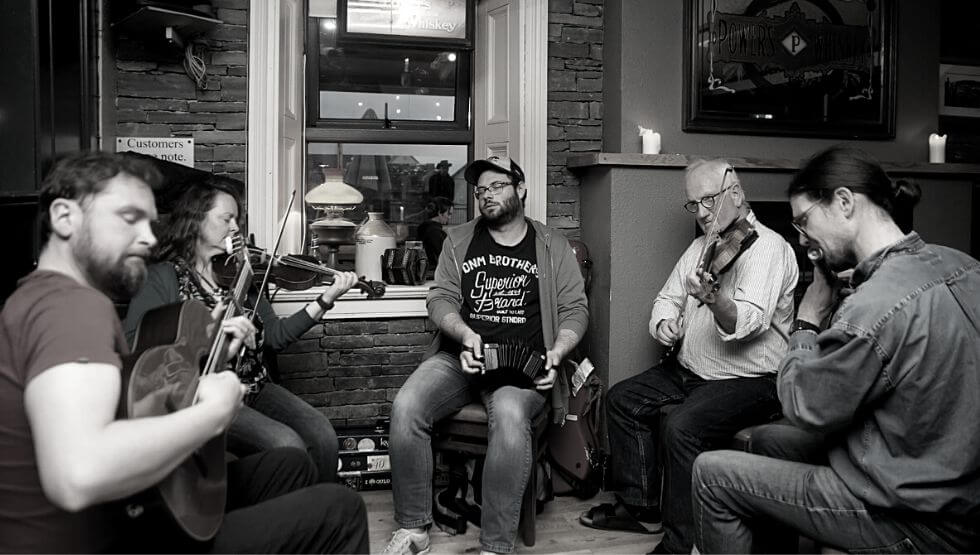 You won't have to go far to find a great traditional music session in Doolin. You will hear the sounds of the fiddles, flutes, banjos and concertinas coming out of all the local pubs and many restaurants in the evening, and there also day time sessions several days a week! Sit back, relax and enjoy what Doolin is famous for!
Find a music session
Contact Tunes From Doolin
Taste Your Way Around Doolin
What better way to spend a rainy day than sampling all of the gastronomic delights that Doolin has on offer. From seafood to home made brown bread and a creamy pint of Guinness- you won't want to leave!
Shopping in Doolin
No visit to Doolin is complete without a visit to some of our craft shops and boutiques. Discover local textiles, contemporary Irish knitwear, gourmet food products, jewellery, homeware and so much more. The perfect memento of your trip to Doolin.
Caherconnell Fort
Caherconnell is located in the heart of the Burren UNESCO Geopark and is owned and run by the Davoren family who have lived in this area for over 1000 years. Meet their captivating collies and watch them showcase their skills in daily demonstrations against the backdrop of the 1,000 year old fort, perfectly preserved and still yielding fascinating treasures. Their is a sheltered area here to protect you from the rain! Spend some time exploring their gift shop that is full of eclectic and authentic gifts along with more traditional Irish gifts. Then enjoy some treats at the Mountain Haven Cafe!
And there you have it. No matter what time of year or the weather, Doolin is ready to welcome you. You don't have to stay inside on a rainy day in Doolin! Get outside and get the wind in your hair to really appreciate the Irish weather and our special landscape.
Read Next: 9 Travel Tips for Planning an Adventure to Doolin
---
Be sure to explore the rest of our website to find out more information, or to plan your next visit to beautiful Doolin in County Clare.
Instagram @doolintourism #lovedoolin
Facebook @DoolinTourism