Doolin – A Hub of Welcoming Irish Hospitality
Warm Welcomes Await..

Photo by Kev L Smith
What's most important as you travel the world is the people you meet along the way – the local people. These are the people that you interact with at every leg of the trip. They have a huge influence on your overall experience as a visitor, and are a crucial factor to a successful and memorable trip. When you think about it, the local people in essence, are the history and the culture, the knowledge and the experience, so choosing a tourist-friendly destination is paramount.
If you didn't already know, Doolin is one of Ireland's most welcoming destinations for tourists – and here's why!
Video by Kev L Smith, Music by Doctor Turtle
Warm Welcomes & Customer Service Excellence
Doolin is well known for its personal touch and homely charm. So much so, that in April 2019, Doolin was the first village in the country to be designated as a tourism 'Destination of Excellence' by Fáilte Ireland – the National Tourism Development Authority of Ireland. To achieve the award, tourism businesses in Doolin undertook Fáilte Ireland's Accredited Service Excellence Programme, with nearly 120 local tourism frontline staff across 41 local businesses completing a dedicated course of customer care training. As you can see from Episode 4 of our 'Meet the Locals' Video Mini-Series (above), many of these family-run businesses have been welcoming people for decades – Susan Daly from Daly's House Bed & Breakfast has been looking after visitors for over 35 years in Doolin and is now joined by her daughter Kate, a trained Irish singer who often breaks out a tune or two for guests during their stay. And that's one of the many special experiences native to Doolin, that you won't get anywhere else in the world.
"Kate, she trained as a singer. The odd time now she might burst into song for the guests, and they love it" – Susan Daly

Tradition & Culture
Historically, the Irish are well known for being a friendly bunch, and it's no different in Doolin! The small coastal community of Doolin is as close-knit as a Celtic knot – everyone living and working together to promote the beautiful destination that they are lucky to call 'home'. This small village is rich in musical heritage, with many a' music session and a story being told in local homesteads and establishments throughout the years.
Doolin (Irish: Dúlainn), once an area that was officially classified as part of the West Clare Gaeltacht (an Irish-speaking community) prior to the 1950s, has never shied away from opening its doors to people passing through. Traditionally, strangers could expect hot water, a warm meal of meat and veg, a clean bed of straw and entertainment with music, poetry, songs and stories by the fireside. And so a vibrant rural society was born, forging a unified cultural identity. This custom is reflected in the Irish language in one of the most popular phrases, 'Céad Míle Fáilte', which translated means 'a hundred thousand welcomes.'
Everyone here is a neighbour, relative, friend or colleague, and together as a collective unit, the local people have been welcoming visitors to Doolin for generations. Dooliners have a relaxed approach to daily life, but always put people first so that the experience of Doolin is enjoyed by all and remains true to its traditional roots. They have a pride and passion of place – of where they live and where they've grown up, and they want to share it. Check out Episode 1 of the series here, to get a sense of Doolin pride and what it means to be a local!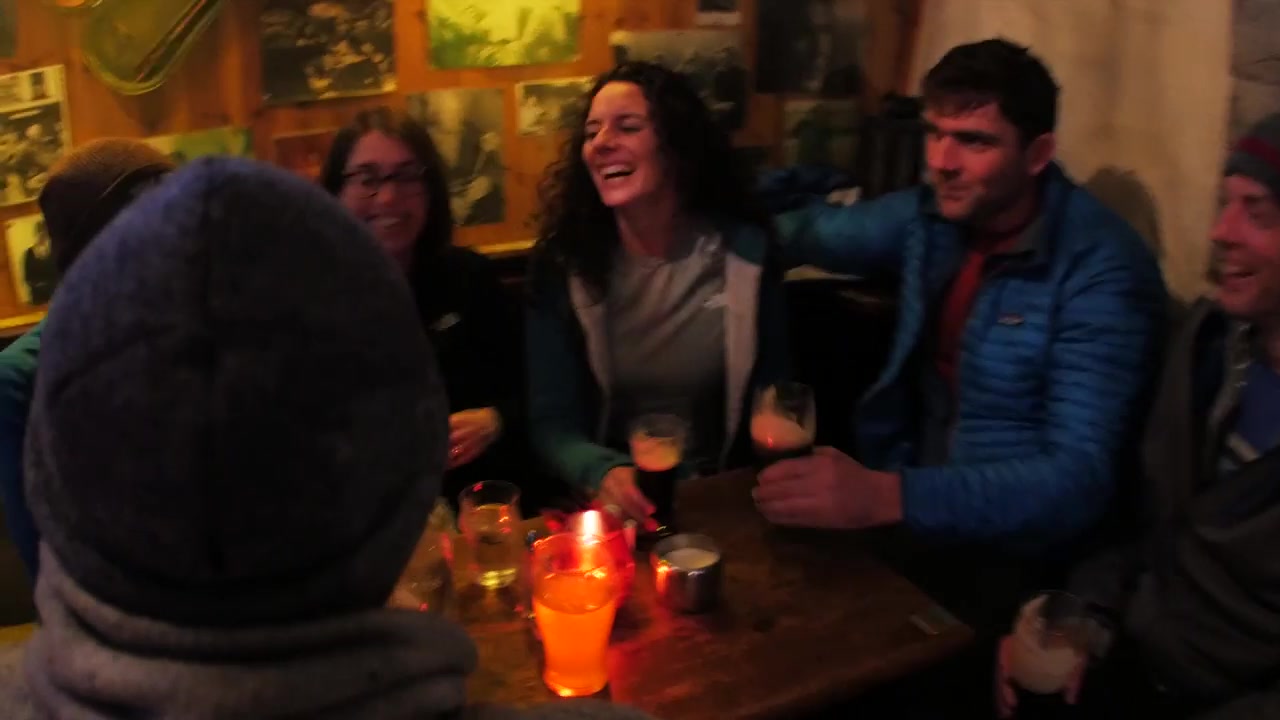 Visitor Engagement & Local Knowledge
In Doolin, you'll experience more than just a welcome. Dooliners are always open to stop for a chat, help you with directions or even give you a lift to the local shop if you're stuck. It is very common to strike up a conversation with a complete stranger in a local pub or coffee shop – that is an everyday occurrence in Doolin. You won't go a day without someone asking how you are doing or if you're enjoying your time in Doolin. That's just the sort of friendly place it is and is one of the major reasons why visitors return to Doolin again and again.
As we've established by now, welcoming and engaging with visitors has always been a custom in Doolin. In the 1970s, local man Bill O'Brien (original founder of Doolin Ferry Company, and pioneer of the ferries from Doolin to the Aran Islands), a young farmer at the time, who often frequented the fine local establishments of Doolin (the pubs of course), struck up a conversation one summer's evening with two American ladies who were visiting the area. Being able to see the Aran Islands from Doolin Pier they asked Bill:
"Can you tell us what's out there across the water?"
Bill replied:
"I can do you one better, I'll show you!"
So off they set from Doolin Pier in a currach (a small traditional fishing boat) for an adventure to Aran, and history was made. Little did the two ladies know that they were about to be a part of history on that day in 1970! To this day, there has been many a' visitor return to Doolin that has travelled with Bill in the early years!
As we can see, not only are the locals friendly, but they also make the best tour guides! The guide books will only get you so far, but if you really want to experience life in Doolin, then the locals are the ones to turn to – steeped in knowledge of the locality, ancestry, hidden gems and the best local attractions, pubs and restaurants – meet the locals and discover more!
It's The Little Things
Doolin is famous for going above and beyond the call of duty when it comes to customer service. Below you'll see a clip of local woman, Maeve Fitzgerald, who makes freshly baked scones every morning for her guests at Churchfield Bed & Breakfast. Doolin prides itself on delivering a best-in-class breakfast experience like no other, supporting local producers along the way and offering 'homemade' fayre as much as possible. You won't find frozen scones here!
Doolin Inn is another example of getting the little things right for guests – offering an extensive hot breakfast buffet each morning that distinguishes greatly from the standard 'fry up' you might find in the bigger towns and cities. Proprietor and Doolin local, Anthony Moloney, gave us some insight into what guests can expect at Doolin Inn:
"The emphasis is on great home-baking, locally-produced ingredients and traditional Irish recipes that have been passed down through the Moloney family. Think rich and fruity soda breads, warm fluffy scones, farm-fresh eggs, traditionally-cured bacon, poached fruits and fresh juices. Our emphasis is always on healthy options and slow-burning foods that will sustain you through your day of discovery."
These healthy and hearty options leave guests feeling energised for a day of exploration. In fact, the day of exploration starts with breakfast and then at the activity hub in reception, where guests are able to book select local activities and attractions at special rates – how cool is that?
Always Improving
It's evident that the Doolin experience wasn't developed by just the ideas of local minds. The area has been a popular visitor destination for decades, and listening to visitor feedback has helped to sculpt the overall experience up to the present day. Bill O'Brien for example, started out with a small fishing curragh and honed his business into the fantastic experience it is today, inspired by the curiosity of international visitors way back in the 1970s. Since then, with the help of his son Liam O'Brien and family, Bill upgraded his fleet gradually to what it is today with the magnificent Doolin Express. What a change from that original currach!
What started out as a small fishing village with limited accommodation and tourism infrastructure, has developed into a tourism destination of excellence, famous for welcoming people. Today, Doolin has a fantastic range of local attractions & activities, restaurants, pubs, shops, events and accommodation options catering for all tastes, budgets and requirements. Doolin boasts a large selection of Hotels & Guest Houses, Inns, B&Bs, Hostels, Welcome Standard Speciality Lodging, as well as holiday homes to hire or campsites for caravans, campervans or tents. Doolin's newest hotel is a unique 13-bedroom property called the Fiddle + Bow and is another great new addition to a village that is always improving, thanks to visitor feedback and local initiative.
A great night's sleep, coupled with fantastic local food, must-see attractions, and exceptional customer service makes Doolin the perfect tourist-friendly destination. Embrace the culture & come and meet the locals!
Contact Doolin – A Hub of Welcoming Irish Hospitality