Let the adventure begin !
With so many activities on offer, Doolin has something in store for everyone : hiking, horse riding, boat trips, kayaking, rock climbing, you name it! Here is a suggestion on how to spend five days in Doolin packed with adventures.
Day 1
Arrive in Doolin and check in to your accommodation. Enjoy a cup of tea and get all the local information from your host. Don't forget to enquire about Doolin Tourism's Local Events or Festivals guide to find out what events are happening within the area while you are visiting!
Why not take a walk down to Doolin Pier and enjoy the panoramic views of the Cliffs of Moher, Aran Islands and Galway Bay? Take an evening cruise under the Cliffs of Moher and afterwards, enjoy the Doolin Heritage Evening Trail.
Wine and Dine in one of Doolin's gastropubs or restaurants, followed by live music at 9.30pm in any of the four pubs.  Need a lift back to your accommodation? Simply enquire at the pub for a taxi number.
Day 2
Take a guided walk to the Cliffs of Moher with local guide, Pat Sweeney, or visit the visitor centre via car or bus.
Later, pay a visit to the magnificent Great Stalactite at Doolin Cave and take a walk around the Farmland Nature Trail. Before leaving, enjoy a coffee and some homemade baked goods at Doolin Cave's Café while soaking in the relaxing atmosphere from their lovely garden veranda.
Before returning to Doolin Village, take the short trip to the Burren Smokehouse in Lisdoonvarna to see how they make their world renowned Smoked Salmon and maybe sample some while you are there! On your return to Doolin, finish your eventful day with some gift shopping in one of the local shops and don't forget to treat yourself to something delicious at the chocolate shop in Fisherstreet.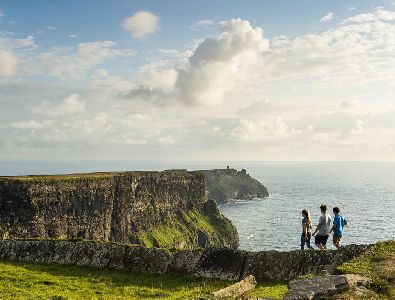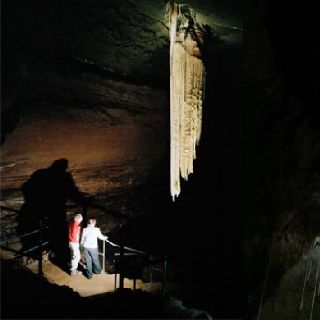 Journey to the Great Stalactite
Doolin Cave is home to "the great stalactite", which is another natural wonder here in Doolin, and is becoming one of the most important eco-tourism attractions in Ireland. Measuring 7.3 metres (23 feet) in length, it is recognised as being the longest stalactite in the Northern hemisphere. The great stalactite has been opened up to the eyes of the world and is accessible to all at Doolin Cave.
Day 3
While staying in Doolin, you are on the edge of the Burren National Geopark, a scenic area rich in history and spectacular flora, fauna and rock formations. There are many guided and non-guided walking and heritage trails within the Burren Area to choose from. Your host will be happy to provide you with all information.
For the food connoisseur, another unique way to see the Burren is to follow its food story through the Burren Food Trail. This is more than a listing of quality food establishments, as it aims to uncover for you the path which your food takes from field to plate. You can decide for yourself how to follow the trail such as stopping at every point or else dipping in and out along one of your walks or visits, according to your taste, interest and location.
Day 4
The Aran Islands are a set of three Islands which are located three miles off the coast of Doolin and are rich in our national language, culture, heritage and geology. The Islands offer great peace and tranquillity, meandering walls, patchwork fields, quiet beaches and a welcoming island people. Two ferry companies operate out of Doolin Pier who offer daily sailings to the Islands. Take a day trip to one of the Islands where you can hike, cycle or enjoy a tour by horse and carriage! Have a late lunch in one of the restaurants or pubs on the Island before getting the last ferry back to Doolin.
Day 5
Begin the fifth day of your break in Doolin with some horse riding on a beach or in the heart of the Burren with Mountain View Horse Riding Centre, where a packed lunch can also be provided on longer trails.
If you fancy further adventure afterwards, take a surf lesson, a guided kayaking tour or get your hands on the rocks with some rock climbing.
Other nearby sights and activities in the area include the Bird of Prey Centre at Aillwee Caves, archery lessons, Scuba diving, caving, etc.