Your home in the heart of Doolin
Doolin Inn – Simplicity of Comfort. Ideal for Couples & Families, Individuals, Groups & Explorers
The warmth, personal attention and homely-charm of a modern country house, combined with the professional and seamless service of a hotel – this is Doolin Inn, your home in the heart of Doolin. From a hearty healthy breakfast to set you up for the day, to a beautifully-appointed bedroom with everything you need, and the friendly advice of people who really know Doolin. Doolin Inn is the ideal base for exploring and is within walking distance of all the Irish music pubs, restaurants, ferries to the Aran Islands, and at the starting point of the Cliffs of Moher Coastal Trail.
What we offer
We are an eco-conscious family-run business who focus on getting the simple things right:
Modern Country House Inn & Restaurant surrounded by a large terrace overlooking the village
4* quality hotel accommodation with 22 bedrooms, located in the centre of Doolin village
Ideal for Families & Groups, Individuals and Explorers
A great base for exploring the Cliffs of Moher, Aran Islands and the Burren
Located at the start of the Cliffs Of Moher Coastal Walking Trail
2 – 15 minute walk to all the local pubs and restaurants offering great local food and nightly trad sessions
Rooms simply decorated, with high-quality eds for a good night's sleep
Cosy Doubles, Superior Doubles, and Family Rooms for up to 2 adults & 2 children
In-room facilities include smart TVs, safe, ironing facilities, tea/coffee making facilities
Deliciously decadent full breakfast available each morning from 8 – 10am on weekdays and 8 – 10.30am on weekends
Brand new Evening Restaurant, "Anthony's", open Tues-Sat 5.45pm – 9pm
Coffee Dock open from 8am – 9pm serving local roasted Anam Coffee, homebaked treats & refreshments
Large terrace and garden to relax and catch an evening sunset overlooking the Atlantic
Stove fire to curl up beside with a good book, hot whiskeys/beverages and/or a glass of wine
Drying Room for your muddy boots after a day's adventure
Debit /Credit Cards accepted (Visa, Master Card Diners)
Specialists in group travel – group conferencing, meetings, events & team retreats
An ideal intimate venue for bespoke weddings, elopements and occasions. Get married on Ireland's breathtaking Cliffs of Moher and celebrate at Doolin Inn
Location
Our doorstep is at the start of the Cliffs of Moher Coastal Trail – hike the coastline trail and take in awe-inspiring views of the Cliffs of Moher. Located at the start of Fisher Street, we are a 2 – 15 minute walk to all pubs restaurants and shops in Doolin and just a 15 minute walk to Doolin Pier, where you can catch the ferry to visit the Aran Islands and Cliffs of Moher Cruises.
Although in the centre of the village, slightly elevated, we are surrounded by green fields, with views of Doolin, the ocean, Doonagore Castle and our gardens. With the ocean, a little more than a stone's throw away, wake up each morning to the smell of the wild fresh air.
Book Direct for the best rates
About Us
Anthony, Deirdre and their team are your hosts at Doolin Inn – professionals who have both expertise and experience in the hospitality industry, in some of the top of the range hotels around Ireland and the world.
Anthony and Deirdre Moloney returned home in 2012 and taking their years of international hotel management experience and mantra of improving a little every day, they set up Doolin Inn as a modern country house in the heart of Doolin. Find out more about us here
"We've worked hard to make sure Doolin Inn has just the character we want: the wonderful comfortable charm of a country inn, combined with all the facilities and must-haves of a good hotel. Our guests love the friendly service and warmth that makes them feel like a guest in our home – yet appreciate the standard of rooms and amenities that are always of hotel quality. It's about relaxation, rejuvenation and relying on the fact that we'll do everything we can to deliver on your dream experience of Doolin." ~ Anthony Moloney, Proprietor
Covid-19 Safe
Cleanliness, training, and improving a little every day has always been a cornerstone of our family Inn, along with new technologies and best practice guidelines from the HSE, Fáilte Ireland and the Irish Hotel Federation. We have implemented some new Health and Safety measures and services to ensure our guests, our team, our suppliers, and our family are safe with us.
Our Big Burren Breakfast
Each morning you'll look forward to coming down to a deliciously decadent full breakfast. The emphasis is on great home-baking, locally-produced ingredients and traditional Irish recipes that have been passed down through the Moloney family.
Think rich and fruity soda breads, warm fluffy scones, smoked salmon, farm-fresh eggs, traditionally-cured bacon, poached fruits and fresh juices. Our emphasis is always on healthy options and slow-burning foods that will sustain you through your day of discovery. Find out more about our food here
Anthony's Evening Restaurant
Opening in July 2020, Anthony's is the new evening restaurant at Doolin Inn. Experience a taste of the Burren along Ireland's Wild Atlantic Way, at Anthony's in Doolin. Here you'll enjoy some of the freshest taste experiences around, with local artisanal produce being at the core of our food ethos. These are the foods and flavours of the Burren – and they're reflected in the food we put on your table here at Anthony's, celebrating sustainability along the Wild Atlantic Way.
Opening times: Tues – Sat 5.45pm – 9pm
Reservations recommended
Walk-ins accepted where possible
Our Rooms
Doolin Inn has 22 modern non-smoking rooms of different sizes, and all with private bathrooms. We've made sure our hotel experience and world travels have translated into providing the kind of rooms our guests want: a cosy bed for a great night's sleep, quality furnishings in warm, relaxing tones and many additional conveniences.
All rooms have beautiful views of the village, terrace, gardens and the Aille River. Look out to the sea or across the green fields towards the valley behind us. Our only nearest neighbours are those that chew the cud and with 360 degrees of views to choose from, we are spoilt for choice. Find out more about our rooms here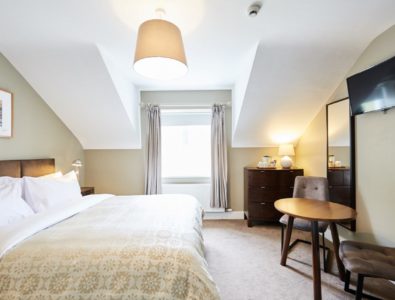 Group Accommodation, Conferencing, Meetings & Venue Hire
If you are looking to book a stay as part of a group vacation or tour, a corporate getaway, team building trip, an educational trip or conference/meeting then look no further. Our team of local travel experts will help build your group's trip, customized exactly to suit the wishes of your group. We are in an ideal location and offer unique group experiences and facilities, including 22 ensuite bedrooms, a conference/meeting room/wellness studio, and more.
Elope in Doolin
Planning your dream ceremony on the island of Ireland? Doolin is one of the most picturesque locations in Ireland – situated near the Cliffs of Moher, beautiful sandy beaches, medieval castles and the rocky outcrop of The Burren – Doolin has stood as the most idyllic backdrop to thousands of love stories. Our property, Doolin Inn, is centrally located in the heart of the village, making it the ideal venue in Doolin. The venue is also just under an hour's drive from Shannon airport which serves as the main airport for the region, with incoming flights from North America, Canada and Europe.
Doolin Inn and Responsible Tourism
We have achieved many accolades and awards for responsible tourism. Going forward we look to always improve on this and extend our approach to how we conduct our business, its impact on our local environment and community.
Awards and Accolades
Fáilte Ireland's Customer Service Excellence Business Award 2019
Burren & Cliffs of Moher Geopark – The Geopark Code of Practice Excellence Award 2019
Burren & Cliffs of Moher Geopark – Best Newcomer to Code of Practice 2019
Responsible Travel and Tourism Accommodation of the Year (small business) 2014
Responsible Travel and Tourism Awards Gold – Best Improvement Energy Management
Burren and Cliffs of Moher Geopark "Best Improvements Award"
Green Hospitality Awards Gold 2013 -2016
TripAdvisor Green Leader Gold Awards 2013-2018
TripAdvisor Awards of Excellence 2012 – 2018
Trivago Top 25 hotels in Ireland 2015
Lonely Planet Top Choice, Rick Steves, Le Guide Routard, Irish Family Vacations