Take a boat trip to Aran or a Cliffs of Moher Cruise!
Boat Trips to the Aran Islands, Cruises to the Cliffs of Moher
"The Aran Islands weren't even on my radar when planning this trip, but I'm very glad we had the opportunity for this visit…"

"I came to the Cliffs of Moher after dreaming of them for years and this cruise really helped that fantasy/dream become a reality…"
All aboard! At Garrihy's Doolin2Aran Ferries, our famous, friendly Blue Crew will help you make the most of your boat trip. 
There's no better way to spend your day than a trip to the Aran Islands. Okay, maybe a ferry to the islands AND a cruise to the Cliffs of Moher would top that…  Travelling from Doolin is now easier, more comfortable and faster than ever, on our two high-speed ships, the Star of Doolin and the Spirit of Doolin. 
What Are My Options?
The Cliffs of Moher cruise will simply take your breath away as you take in their sheer size towering above the boat and watch their seabirds fly. A trip to the Aran Islands (Inis Mor, Inis Meain and Inis Oirr) offers an escape back in time where the pace of life is slower, scenery is awe-inspiring and ancient history is visible at every turn.
You can choose from a short cruise below the Cliffs, a half-day or full day on one of the islands, or even an overnight escape to leave the mainland behind. You can also add a Cliffs of Moher cruise on the way back from any of the islands.
Planning ahead will just make your day even more perfect. The first thing to consider is how much time you have for your trip. The second thing is to Book Ahead so you are not disappointed.
You can also book at our ticket offices located on Doolin Pier and in the main Doolin Tourist Office in the Hotel Doolin complex. Our friendly team can discuss your options in more detail with you. Click here for our blog with directions and parking information.
So, decide how long you want to spend on your trip and read on to see what's the best choice for you.
Are you free all day? Then take your pick:
Lucky you! You are spoiled for choice.
Take a trip to any one of the three islands (you can only visit one island per day). 
Inis Mor is the largest island – famous for its Dun Aengus fort. With our new fast ferry, the Spirit of Doolin, it only takes 40 minutes to get here from Doolin.  Inis Mor is now very popular as an overnight stay, with new glamping and chalet options available.
Inis Oirr is the smallest and closest to Doolin – only 15 minutes away, Inis Meain is the quietest, most unspoiled. You can even take a trip to an island and combine it with a Cliffs of Moher Cruise on the way back to Doolin.
Do You Have a Half Day to Spare? Inis Oirr Island Is Best For You
This is the closest island just 30 minutes away and reassuringly visible from Doolin Pier.
Some of its famous landmarks include the iconic Plassy shipwreck from Fr Ted fame, O'Brien's Castle and stone-age fort on the hill, and the white sandy beach with its crystal clear turquoise waters.
If you can spare 5 hours, you have time to combine this with a Cliffs of Moher cruise on the way back.
Have You an Hour? Then take a Cliffs Cruise
You still have time to take a Cliffs of Moher cruise. This departs several times a day (we sail even more in high season) and takes under an hour so you have no excuses!
The sheer spectacle of the cliffs towering above the boat is an incredible, unforgettable experience. You will be treated to a spectacular live performance from thousands of birds who nest among the rocks, as they call to each other and dive for fish.
Look out for everyone's favourite, the Atlantic Puffins, and also the famous sea cave that featured in the Harry Potter movie the Half-Blood Prince.
Atlantic Puffins are a huge attraction on our Cliffs of Moher Cruise – no wonder really, they are such cute, colourful little birds. Learn all about them in our Ultimate Guide to Puffins Blog 
Are These Trips Suitable For Everyone?
Our smaller ships take 70 passengers, and our newest ships, the Star of Doolin, and the Spirit of Doolin can seat up to 200 visitors. We welcome every age group on board, from 9 months to 90 years!
There is a short gangway with grip rails to get on board, but then passengers can choose to sit for the duration of the trip or walk around.
There is plenty of room for buggies and even well-behaved four-legged friends like the ever-huggable Harvey.
Burren Ecotourism
We are very proud to be members of the Burren Ecotourism Network, which was awarded "Best In Travel" 2021 by the Lonely Planet.  We are passionate about the area we live and work in, which is a UNESCO Geopark. Our Blue Crew have been trained by a local marine biologist and like all good Irishmen, these lads love to talk – they are passionate about sharing their knowledge and love of the cliffs, the birds and the islands with our passengers, so be prepared to listen and learn!
Meet The Family
The company was set up in 1999 by four brothers from a local Doolin family – Donie, Eugene, Joe and PJ Garrihy. PJ was a fisherman out of Doolin for over 30 years. He saw an untapped opportunity when he noticed that while everyone seemed intent on bringing tourists to the top of the Cliffs of Moher, no one was providing them with a view from the sea. And so a business was born.
And now the tradition of this sea-faring and fishing family is being passed on to the next generation – we are fortunate to now have P.J.'s son Martin and Joe's sons Jack and Shane looking after our passengers.  Even young MacDara, Donie's son is joining the team, spending his summers working in our booking office.  Our staff and crew all live here in Doolin or on the Aran Islands and many have been working with us since we started the business in 1999.
Don't Take Our Word For It!
We work hard to make sure our customers make the most of their boat trips and we are delighted to share some of our passengers' comments with you.
Read some of our Trip Advisor Reviews
Proudly Eco-Friendly
As a ferry company and proud members of the Burren Ecotourism Network, we acknowledge our responsibilities for protecting and enhancing the beautiful but delicate environment in which we operate.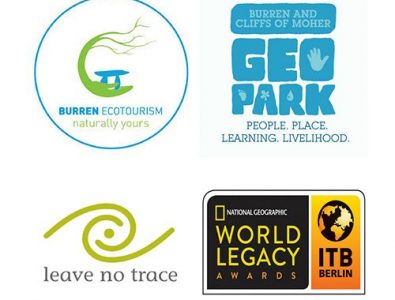 Come Sail with us, We would be delighted to Welcome You on Board!
Contact Doolin2Aran Ferries