Doolin's Musical Culture – The Place, The People & The Passion
The Home of Traditional Irish Music

Photo by Kev L Smith
Get an insight into Doolin's musical culture, why it's considered to be "the home of traditional Irish music", and what experiences you need to add to your bucket list while in the area!
Doolin warmly welcomes visitors to stay & discover more, explore the unique musical experiences of the region, and meet the local musicians, dancers and characters of Doolin!
The Place, The People & The Passion
County Clare is the traditional Irish musical capital of Ireland. Some of the most famous acts such as Willie Clancy, hailing from nearby Miltown Malbay; The Kilfenora Céilí Band, Ireland's oldest Céilí Band, born a century ago in the tiny village of Kilfenora; and Doolin locals, The Russell Brothers, have led the way in the Irish music scene for generations to come.
As Christy Moore put it, in his famous tune, 'Lisdoonvarna':
"If it's music you want, you should go to Clare" – Christy Moore
Therefore, it does not come as a surprise that Doolin, a small coastal village situated in north-west Clare, is widely regarded as "the home of traditional Irish music", with its year-round trad sessions and music festivals. Here you will find a mecca of traditional Irish culture, song and dance, which is intrinsic to the place and its people.
A little bit of Musical History
Doolin's musical heritage was first recorded in the 1920s/1930s by Seamus Delargy, a famous collector of folklore. Other music collectors followed in the next decades to record the magical music that flowed through the village's veins. These recordings were broadcast on radio and attracted more music fans and visitors to the village.
Micho Russell was an integral part of Doolin's musical scene, and its most famous exponent appearing on radio and TV in the 1970s and attracting many visitors to the area to sample the Doolin way of life. Continuing the tradition to modern day, each February since 1995, Doolin is host to the Russell Memorial Weekend which sees musicians from all over Ireland gather in Doolin for a weekend of magical music.
As Doolin is one of the most famous places in the world for traditional Irish music, we thought we would give our visitors an insight into what to expect in Doolin today from a musical perspective.
The 'Irish music session' has been replicated all around the world – but there's something special about experiencing traditional Irish music and dance live in Ireland. Here in Doolin, it's the people and their passion for the music. The music here comes from the heart. As Doolin is steeped in musical tradition, just about all of its locals have musical roots or have grown up around music and dance their whole lives. In the video below, Tess McGovern, a local Irish Dancer, describes her experience of this and explains what the music means to the community.
"The big thing for me about Doolin, is that community around the music. We're just so proud of it" – Tess McGovern
Video by Kev L Smith, Music by Doctor Turtle
It is clear that there is a strong sense of community around the music, with musical traditions being passed on from generation to generation throughout the years. In essence, these family musical traditions are a major force in the community's cultural expression, forming part of the identity and heritage of this local community. That's what makes Doolin's music scene so special – it's all about the place, the people, and the passion.
The Experiences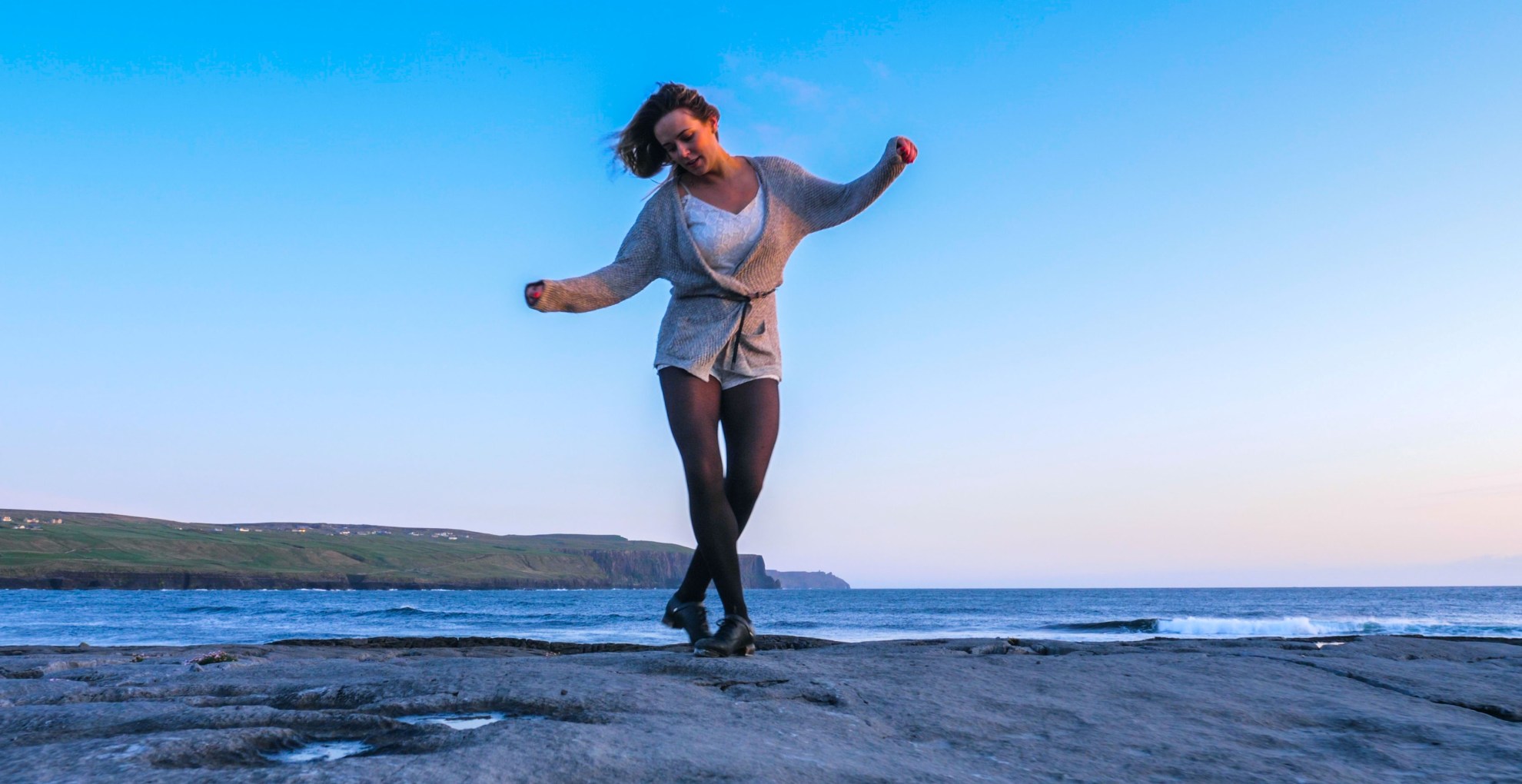 Photo by Kev L Smith
Music Sessions in the Local Pubs – #TRAD365: Doolin is home to daily traditional music sessions in all the local pubs, so there's always something to enjoy! The sessions are a mix of slow airs, lively jigs & insightful songs that take place nightly across all of the bars; Fitzpatrick's, McGann's & McDermott's. Most sessions start from 9.30pm, although some bars may have earlier afternoon & evening sessions in the months of June-September. Click here to view our top picks.
Photo by Kev L Smith
Doolin Music House: Is a unique musical experience, offered by local musician, Christy Barry and his partner Sheila, in their home. Experience traditional Irish music at Doolin Music House, where music, stories, laughter, local food and the Irish welcome are all the ingredients you need for an enjoyable evening in Doolin. To find out more about Doolin Music House click here.
For Groups – Set Dancing & Musical Retreats: For private group sessions, Doolin Inn offers groups travelling to Doolin, some fantastic traditional in-house entertainment, where guests can get involved and immerse themselves in the culture – great for academic & music schools, corporate groups, and more. To find out more, contact Anthony here.
Photo by Doolin Inn
Take the Music home with you: Take a little piece of Doolin's musical heritage home with you, by visiting the local music and craft shops, where you'll find shelves stocked full of trad CDs, DVDs, instruments, books and more.
Photo by Kev L Smith
Festivals & Events: Doolin and the Burren are home to some of the best annual music events and festivals. Enjoy a day out, immerse yourself in the culture, and experience some of the best local talent from the region, and further afield.
The Russell Memorial Weekend Festival takes place in Doolin every February and celebrates Doolin's greatest music ambassadors, the Russell brothers; Micho, Packie & Gussie. Some of the most talented musicians descend on Doolin from all four corners of the world to attend workshops and perform in all the pubs and at the Russell Cultural Centre. To find out more about the Russell Memorial Weekend Festival click here.
The Doolin Folk Festival takes place in Doolin every July, taking inspiration from the great festivals of the 70s and 80s such as Lisdoonvarna down the road, and from the deep musical roots of the county. Although the name gives rise to 'folk music', you couldn't have a music festival in Doolin without a bit of a trad session! Along with big folk acts, you'll find a host of traditional Irish music groups playing throughout the weekend. To find out more about the Doolin Folk Festival click here.
Other local traditional Irish music events and festivals around the county, and within driving distance of Doolin, include:
Keep an eye on our Events section to stay up to date on local music events and festivals in Doolin.
We hope this has inspired you to plan your next trip to Doolin.
Contact Doolin's Musical Culture – The Place, The People & The Passion