Feasting Your Way Through History in Doolin, Ireland
Exploring Doolin's Traditions, Food Culture & Experiences
Uncover the traditions, experiences and modern food culture of "The Fishing Village of Doolin". Here it's all about the taste, the passion, the characters and the experiences.
Doolin warmly welcomes visitors to stay & discover more, explore the unique food experiences of the region, and meet the makers and shapers of Doolin's food culture!
Video by Kev L Smith, Music by Doctor Turtle
Traditions: The Place & The Passion
Doolin is widely regarded as the home of traditional Irish music, but it's also historically known as "The Fishing Village of Doolin". Doolin's main street is even called "Fisher Street", which suggests a long history and the importance of the fishing industry to the area and this coastal community.
In this short video, the second episode of our 'Meet the Locals' series, you'll meet brothers, Michael and Gerry O'Connell, local Fishermen on Ireland's Wild Atlantic Way. Michael and Gerry share their local knowledge of the fishing trade in Doolin, the challenges they face which drive their passion, and the importance of fishing to the local economy and food scene, including supplying freshly caught seafood to the many restaurants, pubs and eateries in Doolin and the surrounding area of the Burren. Watch the episode above.
The first episode of 'Meet the Locals' featured Pat Sweeney, a local Walking Guide and Farmer. Pat is passionate about the preservation of a rural lifestyle enjoyed by five generations of his family who have farmed in this area. Feeding into the second episode, Pat talks about local food suppliers, Michael and Gerry, and their contribution to and influence on the food scene in Doolin.
"This is why we have fresh lobster and fresh mackerel, and fresh crabs in our pubs and in our restaurants here in Doolin" – Pat Sweeney
Another local family, the Garrihy family, have a long association with fishing from Doolin Pier. Eldest brother PJ started fishing in a currach under the Cliffs of Moher in the early 1960s, where the fertile waters below the cliffs had a healthy stock of mackerel, salmon, lobster and crab. PJ's pioneering idea to start Cliffs of Moher Cruises was nurtured by a lifetime of fishing beneath the cliffs and he is still passionate about sharing the privilege of that magical view with the world.
It's evident that the local community in Doolin has great respect for and understanding of food and fresh ingredients. Growing up on farmlands, the local community has a connection with the land and sea and an appreciation of what makes exceptional produce. It's about the love of the locally produced, a commitment to seasonal ingredients and 'eating with the seasons', and the importance of sustainability for the future. Most of the foodie spots in the Burren have signed up to the Burren Food Trail Customer Promise, which stresses the importance of supporting local ingredients and a 'from farm to fork' ethos. As the Irish Times put it:
"Artisan food producers along the Burren Food Trail are fusing indigenous ingredients with traditional recipes, creating a flavour explosion."
Doolin, once a small fishing village, is now a food lover's paradise and its food scene is constantly evolving, which makes it an attractive destination for culinary experiences.
Food Culture & Experiences:
As we have highlighted, Doolin's food culture is rich in tradition, with an emphasis on local, natural, fresh and seasonal.
Geographically-speaking, Doolin is located right in the middle of 'Ireland's Food Destination 2015' – with the Burren being awarded the accolade of 'A European Destination of Excellence for Gastronomy'.
With so much fantastic produce and ingredients on its doorstep, and given its wild Atlantic and rural Burren location, you can be sure to enjoy the best of modern Irish cuisine in Doolin's traditional pubs, restaurants and cafés. Each of the local eateries captures a unique taste of place – the tastes of Doolin.
Photo by Kev L Smith
Seafood Experiences: Seafood is the most obvious taste of Doolin – its "fishing village" status and fishing tradition is the reason for that. Fresh seafood dishes featuring various fish and shellfish from the wild Atlantic, and local ingredients from the land, champion almost every menu. Enjoy everything from simple, tasty chowders or 'fish of the day with chips' to internationally-inspired dishes that now have made a home here in Doolin.
As Doolin is one of Ireland's most favourite visitor attractions and places to live, it is only natural that its cultural diversity has shaped and influenced the flavours and tastes of Doolin. Some of our top picks of local fusion dishes and recipes can be found below.
At the StoneCutters Kitchen, you can enjoy a hearty bowl of 'Moroccan-style Irish Mussels', which consists of fresh, locally sourced Galway Bay mussels cooked in a light Moroccan spice and served with homemade brown soda bread. This delicious dish can be enjoyed with a glass of crisp white wine as you dine with your family in this relaxed family-oriented restaurant. The full menu, kids' menu and the wine list are available here or you can book a table here.
The bouillabaisse at Russells Fishshop is one of the Executive Head Chef's Viv Kelly's favourite dishes to cook up! Using locally sourced fresh prime white fish, shellfish and a warm French baguette, this is a delicious French dish served Doolin-style to eat in or take away. Find out more about Russells Fishshop here
The Seafood Tagine at Anthony's, Doolin's newest restaurant, is something of an Atlantic delight – served with local prawns, cod, mussels, and a lightly spiced vegetable couscous. This is a Moroccan-inspired dish done in a true hearty Doolin fashion, using delicious local produce. View the full menu or book a table at Anthony's here
Over in neighbouring Lisdoonvarna, you'll find the foodie powerhouse that is the Burren Smokehouse. The visitor centre offers you the chance to discover the mystery of salmon smoking and the secret of how they handcraft their smoked salmon. You'll also get the chance to sample the finest example of Burren smoked Irish Organic salmon, and watch a free video on the smoking process. Salmon is also available to purchase on their website or from the visitor centre, and if you need some cooking inspiration, check out their Italian-inspired recipe from Doolin: Birgitta's Tagliatelle with Burren Smoked Irish Salmon
A Quality Irish Breakfast Experience: is something you will find in the hotels, B&Bs, guesthouses and other local accommodations in the village. Historically, the stereotypical Irish breakfast has always been associated with "the fry" – but not in Doolin. You'll enjoy some of the most inspiring breakfast dishes, using home-grown or harvested produce and local ingredients from the Burren. One example of this Doolin taste is the breakfast menu at Sea View House & their newly opened Lodges. As members of the Burren Food Trail, Sea View House grow, bake or make most of their own breakfast items. The menu also highlights how local their food is by showing you the food miles for each dish (the average distance all the ingredients travelled to get there). Experience a quality Irish breakfast in Doolin when you book a room or lodge at Sea View House. Book a room, or book a lodge.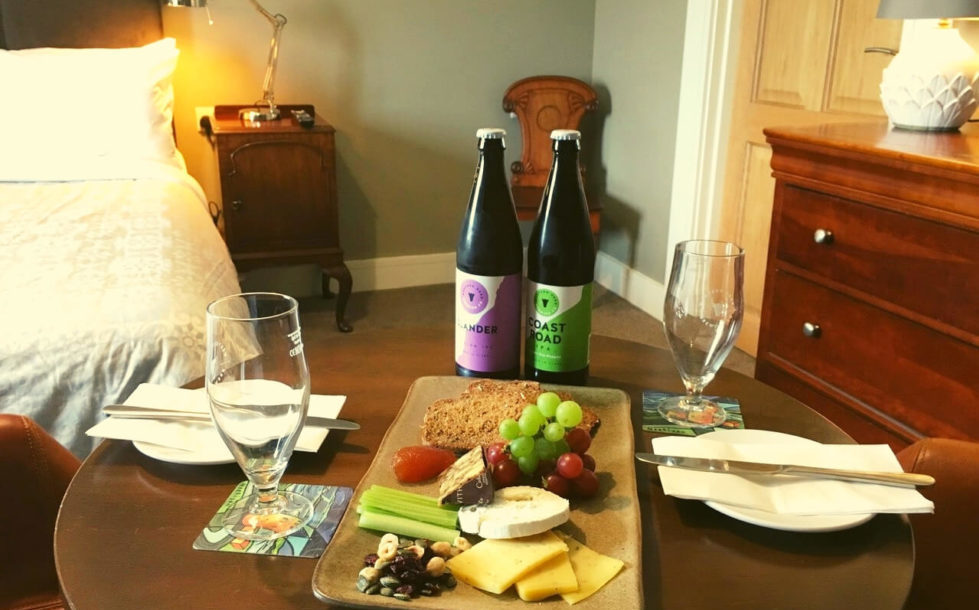 A Craft Food & Drink Pairing Experience: is another sensory experience to enjoy in Doolin. Burren cheeses paired with locally micro-brewed beers is an experience offered by Doolin Inn. Their 'Taste the Burren' experience consists of a 2 Night Stay with Breakfast each morning, a Burren Cheese Plate & 2 Bottles of premium, locally micro-brewed beers in your room on arrival, Late Checkout on your day of departure, and more. Price: from only €199 for Two People Sharing. Book this Experience here.
A Food Event or Festival Experience: Doolin and the Burren are home to some of the best annual foodie events, markets and festivals. Enjoy a day out and meet some of the best local food producers, brewers, distillers, farmers and chefs from the region.
The Burren Food Trail hosts an annual series of food events throughout the Burren. These events focus, not only on food but also on the landscape that surrounds it. Each individual event represents a unique opportunity to combine good food with real, authentic interaction with the people who produced or prepared it, or indeed with the surrounding landscape, activities and heritage. To find out more about the Burren Food Trail events click here.
Other local annual food events include the Burren Food Fayre which kicks off on Sunday, 27th October 2019 and the Burren Slow Food Festival which just took place in May. Keep an eye on our Events section to stay up to date on local food events.
We hope this has inspired you to plan your next foodie trip to Doolin.
Contact Feasting Your Way Through History in Doolin