Russell Festival Weekend
The countdown is on for the infamous Russell Festival Weekend, which had to take place virtually last year, but now it's back with a bang as a real-life in-person event, and we're SO excited here at Doolin Tourism. With a jam-packed weekend of music, song, dance, workshops, and more, it's not a weekend you want to miss out on so here's everything you need to know about this year's festival.
What is the festival all about?
The annual weekend is a traditional Irish music festival held in Doolin in remembrance of Doolin's greatest music ambassadors; Micho Russell, the world-famous traditional musician, and his brothers and sisters. What a way to kick off the season with the brightest musicians descending on Doolin from the four corners of the world to attend workshops and perform in all the pubs and Russell Cultural Centre.
The highlight of the festival is the Russell Concert which takes place on the Saturday of the festival in the Russell Cultural Centre.
Where is the festival held?
The festival takes place in Doolin, County Clare, Ireland. Daily music sessions, concerts and other festival events take place in the Russell Cultural Centre and also in the local pubs, and hotels.
Is there a festival schedule available?
Yes! Scroll down to view the festival schedule or check out the event Facebook page here or download the Schedule
Micho, Packie and Gussie Russell were very talented musicians who learned most of their music through their mother and other local musicians. They were from Doonagore in Doolin and lived there all their lives and played for house dances and later in the pubs of Doolin.
How much does the festival cost?
Most of the music sessions and small events are free except some of the workshops and the main 'Russell Concert' which takes place in the Russell Cultural Centre on Saturday 26th February.
Who is playing at the main concert on Saturday 26th February?
"At the Racket" in concert, with Oireachtas champion, Bethan Marsh, hit the main stage in the Russell Cultural Centre on Saturday 26th February at 1pm (doors 12.30pm). Tickets €25 per person. Tickets available here
Is there anything on in the Russell Cultural Centre on Friday 25th February?
The Russell Weekend Friday Concert:
Céim ar Chéim
A showcase of rising local talent in traditional Irish music, set dancing, brush dancing and Sean Nós.
Friday 25th February @ 7pm
Russell Cultural Centre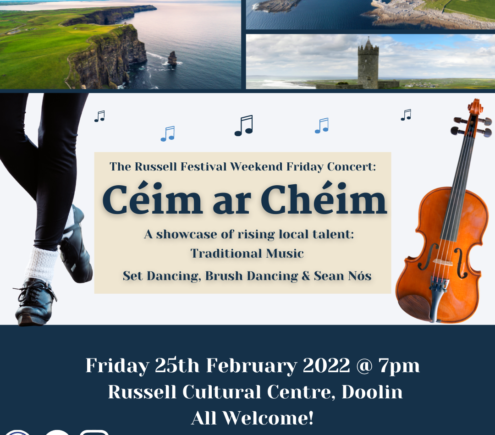 Other highlights of the weekend..
Aside from the main concert and pub sessions, there is an array of fantastic gigs, workshops, album launches, talks and sessions for people of all ages to enjoy, such as storytelling & heritage talks in The Attic @ Hotel Doolin, dance/guitar workshops and album launches in Fiddle + Bow, a Kids Session in Irish Crafts, a singing workshop in Daly's House, a teen session in McDermott's, gigs in The Attic @ Hotel Doolin, and traditional instrument workshops in McDermott's and McGann's throughout the weekend. View the full schedule here
Remembrance Mass followed by wreath laying at Russells grave will also take place on Sunday 27th February at 1pm – Doolin Curch & Graveyard.
Where to Stay
Doolin has a great selection of accommodation options to cater for all tastes, budgets and requirements. Choose from Hotels & Guest Houses, Inns, B&Bs, Hostels, Welcome Standard Speciality Lodging, as well as holiday homes to hire or campsites for caravans, campervans or tents.
Where to Eat
Guinness, Irish whiskey, Irish coffee, "The Fry", Irish stews, vegetable soup and soda bread, potato cakes and fish and chips are just a few of the traditional dishes and beverages that are on offer here in Doolin. If you're looking for pub grub, rustic fine dining or something in-between, Doolin is the place to enjoy all of these in both relaxed and vibrant dining atmospheres. The local eateries are stocked with all the best local produce, craft beers, wine and Irish favourites. Come and experience the tastes of the land and sea!
What to Do
If you're looking to do some extra activities or shopping during the festival, you're in luck. Aside from amazing musical experiences, Doolin is also home to some great activities, shops and places to see. Nestled in the beautiful Burren on the wild Atlantic coast, Doolin is rich in scenery, heritage and outdoor excursions.
Contact Russell Festival Weekend 2022: Everything you need to know!